From one simple idea Forever Young was formed. In 1993 my Grandmother was mugged which led to the Pass Secure shopper being created. If you have a minute please read what was written in the local newspaper.
IT'S a scenario that's all too common. Waiting for a bus, you open your handbag to get your bus pass out of your purse and thieves strike - snatching your purse, and probably your bag too.
 But help is at hand. After his grandmother had her purse stolen as she paused to take out her bus pass, Stuart Leigh believes he's found the answer. Stuart, a solicitor from Ilford, has designed a simple but effective crime-busting bag.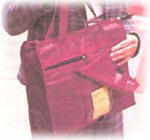 The Forever Young shopping bag has a front flap which you lift to expose a clear transparent pocket which can house your bus pass. Its the first bag to be designed for the bus travelling passenger, and has already proved a big hit.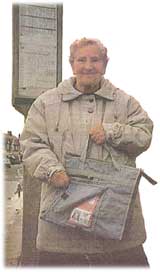 Not having to get your bus pass - or other identity cards - out of your bag or purse makes it safer.
 After making up one or two 'models', Stuart tried the bag out on his grandma and some of her bus-travelling friends who all loved the idea. But that was just the start.
 The idea was welcomed by the Metropolitan Police, who are now recommending the bags as part of their Crime Prevention Programme.
 Ilford Crime Prevention Officer, PC Neil Marshall, says: "If the bag saves elderly people from digging around in their handbags to pull out purses then it has got to be a good idea".
Stuart's grandmother, Mary Schupak, with her Forever Young shopping bag. "It's given me much more confidence when I wait at a bus stop," she says.








I left my career as a Solicitor and with passion and skill I started designing "Great Bags". Everyone of our clients is important so why not join our growing list of satisfied customers.